LASER
MACHINE'S MODEL
TLV-700

LMC-1200-0.7

LMC-3000-0.7

TLV-1000

LMC-3000-1.0

LMC-6000-1.0

TLV-1500

LMC-3000-1.5

LMC-6000-1.5

TL-3

LMC-3000-3.0

LMC-6000-3.0

TL-5М

LMC-3000-5.0

LMC-6000-5.0

TL-6 (TANDEM)

LMC-3000-6.0

LMC-6000-6.0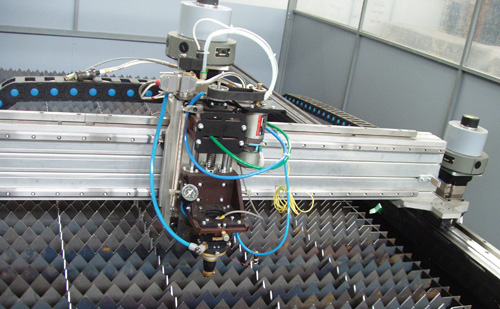 The table coordinate horizontal configuration, portal type with " flying optics " is executed as two longitudinal farms connected by cross beams. On a base horizontal surface of longitudinal farms are established linear directing and gear рейки, determining moving of a portal along an axis "X" . Loading table is intended for submission of a processable material in a working zone of a coordinate table. On a frame of the loading device " the working field ", consisting from 5 longitudinal and 65 cross "knifes" is established. Moving of the loading device is carried out manually.
The portal is made of an aluminium alloy. At end faces of a portal executive mechanisms, providing longitudinal moving are established. On a portal as are established directing and gear рейка, providing to the similar executive mechanism moving of the carriage along an axis "Y".
On the carriage the technological platform for installation Z-coordinate with a laser cutting torch is stipulated.

TABLE'S CHARACTERISTICS
MACHINE'S MODEL
LMC-1200-X.X
LMC-3000-X.X
LMC-6000-X.X
Work area size

x

1200 mm

3000 mm

6000 mm

y

840 mm

1600 mm
1600 mm

z

100 mm

Moving speed

x, y

50 m/min

z

1 m/min

Cutting speed

x, y

up to 20 m/min

Machining accuracy

x, y

0.1 mm

Accuracy of positioning
z

0.1 mm

Auto-focusing accuracy

0.1 mm